Imprint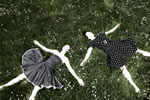 Company: 
Lisa Milloy and Leah Wickes (Victoria, BC)
Venue 2: Metro Studio (1411 Quadra at Johnson)
Set to an original score by composer James Boatman, Imprint explores memory - both indelible and ephemeral. Using text, light, and scenes set with scale askew, the two dancers guide and support each other through the vast, textured scape of remembered experience.
SHOW TIMES
SAT, AUG 29 8:30 PM
MON, AUG 31 6:30 PM
WED, SEP 02 8:45 PM
THU, SEP 03 10:00 PM
SAT, SEP 05 8:45 PM
SUN, SEP 06 3:00 PM
Read the PLANK Review.