Back to the 80s...the totally awesome musical!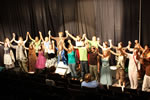 Company: 
SMUS Musical Theatre Intensive (Victoria, BC)
Venue 8 St. Michaels University School (3400 Richmond)
1985! Join Corey Sr. as he steps back into his grad year, singing with old friends songs like Michael Jackson's Man in the Mirror, Wham's Wake Me up before you Go Go, B-52's Love Shack... plus a Star Wars dream sequence! Showcasing teen performers from across Victoria and bringing Broadway to the Fringe, the popular SMUS Musical Theatre Intensive celebrates its 10th season with this "totally awesome" nostalgia show, and this dynamic cast is ready to rock you. Past shows: Seussical the Musical, Tommy, High School Musical, Working and Into the Woods. Desperately seeking audiences who... just want to have fun!
SHOW TIMES  •  THU, SEP 03 6:30 PM  •  FRI, SEP 04 6:30 PM  •  SAT, SEP 05 2:00 PM  •  SAT, SEP 05 6:30 PM
Read the PLANK Review.