The Accident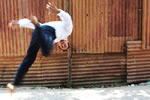 Company:
Jonno Katz - Epicworlds (Melbourne, Australia)
Venue 2: Metro Studio (1411 Quadra at Johnson)
Sebastien cooks with his mind. Roy likes cheap chicken curry. The unexpected, unusual and unintended tale of two brothers.A fusion of theatre, dance and comedy.Jonno's previous shows: Uber Alice, Cactus, Jolly Roger & The Spy. "A refreshingly honest tale of two brothers who are as different as video games and bananas." ****1/2 Stars - The Hour, Montreal. "The Accident is laugh-out-loud funny and wonderfully well-put together. Katz's tour-de-force performance makes The Accident without a doubt the best thing I've seen at this year's fringe. Stunning." Indyish.com Winner "Outstanding Solo Performer" Ottawa 2009, Winner "Best of Fest" Winnipeg 2009
SHOW TIMES
SAT, AUG 29 10:00 PM • MON, AUG 31 8:00 PM • WED, SEP 02 10:15 PM • THU, SEP 03 6:30 PM • SAT, SEP 05 7:00 PM • SUN, SEP 06 6:15 PM 
Read the PLANK Review by Alina Cerminara.
Or ready Mike Vardy's PLANK Review.