P@Stratford: Moby Dick - following the whale's song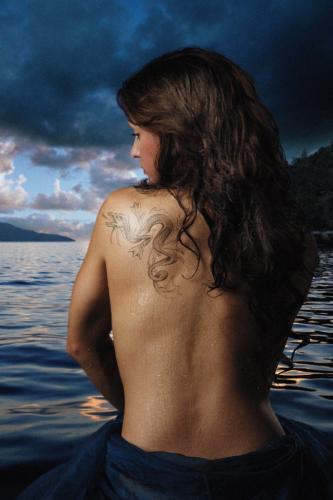 As well as Shakespeare, Shaw and large-scale musicals being produced at the Stratford Shakespeare Festival, there are four new works premiering this season, including Shakespeare's Universe (Her Infinite Variety), performed at the outdoor Festival Pavilion, There Reigns Love, devised and performed by British actor/writer Simon Callow, and Palmer Park, Joanna McClelland Glass' exploration of interracial tensions in a Detroit suburb. And then there's Moby Dick. Unlike other works, there's no declaiming, no speeches, no laments or words of love. In fact, there's no dialogue at all. Governor General Award-winning director and playwright Morris Panych has crafted the staged adaption of the 1851 Herman Melville novel as a mix of dance, movement, and mime, all set to the moody orchestral music of French composer Claude Debussy.
Advance buzz has quietly been building around the production, which in and of itself, is unlike anything Stratford has ever staged in its fifty-five year history. Yet it's just the sort of project the festival needs in order to attract younger audiences interested in experimental works; the development of such a work is also important in keeping the flow of ideas and projects constant between various Canadian theatre artists. Acclaimed Canadian actor-director David Ferry, who performs the title role of the obsessive Captain Ahab, recalls the extensive collaboration that occurred at Moby Dick's inception, beginning with a week-long workshop in Toronto last winter.
"Shaun (Smythe, who plays Ishmael), myself and Morris worked alone for a couple days, then we got in everybody else, but not all of this cast," he explains with a palpable excitement over the memory, "so because some people weren't available yet, a few of The Overcoat actors came in and helped create some images with us – things like the sails, the opening image, killing the whale. We got about a third of the play… it was really a very productive week."
Panych's The Overcoat is an award-winning tale of lust, envy, and madness, and like Moby Dick, is dialogue-free. Since its premiere in 1997, it has been a steady favourite with audiences and critics alike. Based on the short stories of Russian writer Nikolai Gogol, the piece incorporates the music of Dmitri Shostakovich and involves a cast of more than twenty who use physical theatre, not dialogue, to move the story forwards. Ferry sees Moby Dick as being similar to The Overcoat in some ways, but different in others. "Morris has deliberately designed it to be smaller," he says, "it has two-thirds of the cast, and it's much easier numbers in terms of budgeting and touring. I think there's some great synergistic possibilities, especially if you go the festival route."
Before taking it out on the road, however, it has to play at the Stratford Festival, where it opens this Sunday in a matinee performance. Ferry says initial good notice came from the sound designers on the show, and spread like wildfire through the festival's acting company. The Festival's Artistic Director, Des McAnuff named Moby Dick as one of the must-sees of the season. But Ferry isn't jumping the gun: "I'm a bit worried, really." Shows with good buzz usually get skewered by critics after all, and are rarely given a chance to develop their own rhythms, much less their own personalities. But with Moby Dick, Ferry explains, there has been consistent and equal involvement with all the artists in the production. Indeed, the program recognizes the input of everyone, listing them all by name. "It's been a really interesting process," Ferry says, his blue eyes widening, "and it's been great to get to know everybody, and form those relationships early on. When we turned up (in Stratford), we were ready to get going. The stage managers were different, but they seen the video, and the whole thing had been scored. The sound techs had this huge screen with numbers on it too, so it was pretty together by the time we got here."
Music is central to the work, with the action, plot, and characterizations of the novel being dictated by Debussy's works. Moby Dick employs three pieces from the composer's canon: La Mer, Jeux, and his three Nocturnes. The latter, composed in 1899, has three movements, titled "Clouds", "Festivals", and suitably enough, "Sirens" (three female dancers writhe, stretch, and move sinuously across the stage as the mythical sea beasts as part of the stage adaptation). Jeux, from 1912, was originally written for Serge Diaghilev's Ballets Russes, and was described at the time, rather prophetically, as a "danced poem". La Mer, composed between 1903 and 1905, is one of his most admired and frequently performed works; the composer himself subtitled the piece "three symphonic sketches", as if the term "symphony" was far too constricting. With names like "From Dawn To Midday", "Play of the Waves" and "Dialogue Between Wind and Waves" serving as labels for each movement, Melville's novel might seem like a natural choice through which to connect literary seafaring themes with musical ones. But Debussy's music is anything but narrative-driven; it is instead a musical meditation. Hearing it, one is struck by the lush, sensuous instrumentation, and the swaying sonic undulations that invoke the piece's namesake; pairing it with Melville's whale of a tale, however, adds another level of drama that is initially a challenge for viewers who aren't well-versed in the novel's finer plot points, let alone in French impressionist music. Any confusion over onstage action, or questions about mounting conflict, rely on the audience's imagination, dancing with Debussy's music as a full partner, to fill in the missing steps.
In explaining Panych's approach, Ferry says "everything's created to the music. So he'd get an image and say, 'This piece is right for this part of the story. How do we do it?' Or he'd come in and say, 'I have this picture for this part in the music. Now I want this to happen' and then work out the gestures. But it was always a collaborative process."
Indeed, the production is filled with striking, poetic images, like sails made from men's shirts, a preacher high on a pulpit, and a female dancer posing, nearly Christ-like, as a gutted whale. Moby Dick is filled with the sorts of images –and by extension, drama – that will stick in the collective memories (and perhaps fire up the imaginations) of its viewers. Like Debussy's music, Melville's words float, shimmy, sway, and echo within their own specific rhythms, evoking the gentle, then harsh waves of the sea. Moby Dick is an attempt to convey the awesome beauty and ferocious power of not only the hefty Melville novel, but of the natural world itself. The narration is an extension of that intent; it is utilized less for laying down plot points than for sonic counterpoint, as a means of weaving through and around Debussy's score. The spoken word becomes less about plot and more about using the senses and the imagination as guides for onstage action. The process of deciding to include narration was, however, a difficult one. "At one point, both Ahab and Ishmael were doing more narrative," explains Ferry about the show, "and then it was decided there would be no narrative. And then there was narrative, and then only Ishmael, as he's the narrator anyway, so it makes sense. But it's very impressionistic."
Despite this impressionism (a term Debussy himself detested), there are still clear, recognizable characters in the production. Ferry says it is a symbol of Panych's loyalty to the written word that such full-blooded characterizations of Melville's creations were able to emerge. At his director's urging, Ferry and his castmates wrote down images and scenes from the novel that they felt were important in the development of their respective characters. ""I went through the novel, and I had all these little pieces of paper with writing on them stuck through (the book). We all came across scenes we thought were essential."
"One of the great scenes in American literature, if not in all English literature, is where Ahab is discovered by Starbuck, and he's weeping at the side of the boat, and they have a whole conversation about their wives back home -how they'll never seeing them again, about the people they've lost. It's a very powerful scene. Then there's a passage in the book that describes Ahab sniffing the wind like a dog. I just had to look for images that lay in there already."
For one of this country's most versatile theatre artists, who has played everything from Hamlet (twice) to the tightly-wound cop Donnie in George F. Walker's Suburban Motel series, was Artistic Director of the Resurgence Theatre Company, and has directed numerous works including The Last Days of Judas Iscariot (for which he won a Dora award), and Brendan Gall's Alias Godot, working on a project as unconventional as Moby Dick has been a real treat. "It's certainly different than anything I've done," he says with a laugh. "I've never done anything like this, so I can't really compare it. Your emotional line is carried by the music, it tells you how you feel in many ways. Your plotline is told by the novel and the aspects of the novel you've chosen to play… but for me…" He pauses, considering his words before flashing a smile. "I won't back down. I go one-hundred-percent into something. You tell me when it's too much and I'll stop. So for me, the image (of Ahab) was a cross between silent film and pantomime… and movement theatre, because that's what it really is. In terms of approaching acting, the more I listen to the music, and know when my cue is, the more I can fill in, clearly and emotionally and gesturally, what the music is demanding from me. There's stuff you're still discovering in every performance too - 'Oh, I hear that now', 'Oh I never heard that note' 'What can that add to it?' or, 'Do I do nothing?' -you make choices like that. It's a different kind of approach and working. I'd definitely do it again."
For production background on Moby Dick, check the website of Morris Panych and designer Ken MacDonald here.
Moby Dick runs through October 18th at the Studio Theatre as part of this year's Stratford Shakespeare Festival. For more information, set sail here.
This article originally appeared in the new theatre review
[img_assist|nid=255|title=Moby Dick: David Ferry (right) as Ahab with members of the company; photo: David Hou|desc=|link=none|align=middle|width=500|height=333]