One Intrepid Fringe Reviewer's Overall Picks for Vancouver Fringe 2012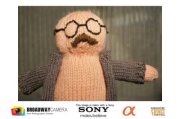 Over the course of the Fringe I saw 13 shows, attended one participation-related event, and drank a lot of beer. Six of the shows were assigned through random selection by the Plank Powers That Be and the other seven I saw based on my own interest from the project description or advice from others. Sometimes I just liked the picture on the poster (yes, I also judge books by their covers). I think what struck me most about the Vancouver Fringe Festival was the real sense of festivities. I've been to the Fringe in Halifax, Toronto and Victoria, and while all of those festivals have admirable enthusiasm and organization, they lack the bustling vibe the centralized location at Granville Island gives Vancouver Fringe. I think the biggest shout-out has to go to the Fringe organizers themselves for creating a fun atmosphere that didn't let up for ten days (I should know, I went to the site 8 out of 10 of those days). So here are my Fringe picks, based mostly on what I found interesting, compelling or just good old fun.
Favorite Show: Loon
I actually got out to this twice, first during the initial run and second at the Pick of the Fringe encore performance. I described it to a friend as The Triplets of Belleville meet Pixar's Up. She was delighted when I made sure she got out to the encore performance and found that it was accessible, touching and funny. I'm looking forward to more from these guys and hope that, like they did with Grim and Fischer, we see another incarnation of this in Vancouver.
Delightfully Strange: Little Lady
I had to call my sister after seeing this show because it was one of those ones I just needed to share my delight with. Was there a plot? Not really. But there was so much character and so much presence from the former Cirque performer that I was on the edge of my seat, grinning from ear-to-ear the whole time, eager to see what kind of strange and adorable contortions I would be treated to next. This is why we have Fringe: to showcase the many strange talents of some of our best performers. 
Under-Promoted but Worth the Time: birdy
With over 100 shows a lot got lost in the crowd. I made it to a few under-performers and some of them failed to get crowds because they just weren't very good, while others seemed empty because no one really knew about them. Of all of those shows birdy seemed the most undeserving of this fate. It was an engaging, melancholy 45-minute character study of an unraveling woman. I liked it because we got to spend a lot of time with a character, something most plays aren't able to do with their time constraints, and really watch the actress perform. I would have liked it if more questions were answered about the character, but throughout I connected with her and felt her pain. I hope this piece is developed further and made into something bigger down the road. 
Biggest Disappointment: Guernica
After attending Guernica I spent some time looking up the playwright and the actors, learning it was written by a young playwright still attending U of A, and performed by Studio 58 grads. With that in mind I can't say too much negative about it. It was a well-constructed exercise in character creation and played to the reliable rules of structure, development and execution. However, I know a bit of art history, and read a book on Guernica a few years back ("Picasso's War"), so I was ultimately disappointed by how little research seemed to go into this. I'd love to see this executed with more research and a greater degree of historical truthfulness to Picasso's inspiration and relationship with Guernica, because the real story is fascinating and I think the subject matter is perfect for the stage. My other complaint? Picasso most certainly did not have an LED flashlight. I'm a techie-turned theatre history major, and that kind of inaccuracy distracts me to no end. 
Most Cathartic: Fear Factor, Canine Edition
Okay, I'm pretty biased here, since my dog died the week before I saw this. I hadn't cried and wanted to have a bit of a cathartic experience. I almost made it through without losing it too, until the last ten seconds, when a well of emotion overcame me. This was one of those shows where the lights went out, followed by thirty seconds of sniffling and whimpering from the audience, and then the slow clap began, followed by the slow ovation, and the long applause. I actually hugged the actor on my way out, probably getting my runny mascara face all over his crisp white shirt (sorry man) and comically sobbed "my dog just died!". I had to call a friend and get a drive home to New Westminster, but man, it felt good to get it out.