I'm So Close It's Not Even Funny - a brilliant time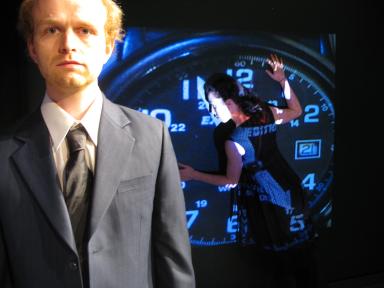 Why Not Theatre's  I'm So Close It's Not Even Funny is an exceptional piece of theatre but it's difficult to write about as a whole because it contains so many different parts and pieces and so many different styles and ideas. The experienced company consisting of Katrina Bugaj, Troels Hagen Findsen and Ravi Jain created the piece and perform it with vigor, ease and delight.
There is one through line with a paranoid and Groucho-stooped man, Bob (Jain), whose only companion seems to be his goldfish Max – played by an actual goldfish in a bowl. Bob has conversations with Max and seems to hear responses from him until even the audience gets to hear Max (through a single line of voice over). The next time we see Bob, his goldfish Max is now played by Findsen in an amusing goldfish costume. The two have conversations about fear and death and Bob decides the best course of action is to do nothing. Max becomes somewhat impatient and yet, they wait.
There is also a trio of archeologists making a discovery of some kind. At first these archeologists are presented in a silent-film slapstick comedy performed live. There are the usual high jinks of injury, miscommunication and idiocy. When next we see them they are sharing their find (no longer silent). They have discovered two skeletons, dating back 5,000 years. The two bodies are inter-twined and a disagreement begins about the nature and circumstances of these two early humans. The bodies were discovered near Verona (the setting for Shakespeare's "Romeo and Juliet") and one of the archeologists (Findsen) believes the skeletons are in a final, suicidal embrace. He believes his theory is supported because there was also a dagger found next to the skeletons.  The other two archeologist find this idea absurd and a thus begins a three-way bickering that is reminiscent of both Looney Tunes and The Marx Brothers. Findsen's archeologist breaks this three-way tie with a song about love and Jain and Bugaj's characters fall in love.
The most emotionally poignant series of scenes begin with Steve (Findsen) waking and going to work. Jain and Bugaj dress Steve while he eats and then place item after item either on Steve's person or in front of him to use. The process goes something like: clothes put on; toast shoved in mouth; briefcase placed under arm; cell phone into the neck/shoulder crook; laptop held out for typing; Starbucks coffee in hand; clipboard for signing contract in front (forcing briefcase between the legs); cell phone disappears; large office phone into right-side shoulder crook; key board for typing; second office phone, left-side; second key board; third key board … until there is just a flurry of busy-ness. Then Steve runs away in super slow motion as "the wind" (that is, Jain and Bugaj) "blows" away all of his items and even his clothes (leaving him in the bathing suit he will need to play Max).  Next we are introduced to Steve's wife, Susan (Bugaj). She sits watching television programs about the Arctic and polar bears drowning from exhaustion because there is no solid ice. She watches with great interest and waits.  Steve arrives exhausted from work and a routine begins: Susan and Steve perform in perfect synchronization as she helps him undress, helps him to bed and they lean in to kiss in unison. The routine breaks down as Susan begins to describe what she has been watching but Steve is already asleep. This action repeats a number of times and day by day Steve becomes more and more exhausted and he and Susan become more and more out of synch until eventually he is coming in and sound asleep before Susan has even gotten up to welcome him. One night Susan seems to be sleeping alone when her bed is transformed into a giant iceberg.
When next we see Susan, she is with a doctor (Jain) looking at an X-Ray of lungs - apparently she is dying. After this discovery, Jain and Findsen carry and dress Susan until she is bundled in winter gear. Then the familiar voice of the narrator from Susan's program about Polar Bears is heard. Soon after this, there is a looped cell phone call between Susan and Steve. Reception is bad and Susan says there is a storm coming.  The next section consists entirely of a projected "instant messaging" conversation and is one of the simplest, most original and emotional moments of my SummerWorks experience. We watch Susan's side of the conversation as she struggles with how much to tell Steve; typing and then deleting many times. She tells Steve that she is in Sweden; that she needed to see the polar bears but does not mention her illness. Steve also demonstrates that - despite the fact that they have become out of synch- he loves Susan and needs her. This section was the perfect balance of creative, engaging and moving. Susan returns home and she and Steve come together for an embrace.
This show made me laugh, it made me cry and it made me think. I was impressed with the creativity of storytelling, physicality, character, and staging. It moved my mind and my heart (which is what I hope for every time I walk into a theatre). Bugaj, Jain and Findsen met while training at the Lecoq School and seeing this piece makes me wish to study there (if only my French were more fluent).  I'm So Close It's Not Even Funny is filled with controlled chaos, wonderful physicality, clever comedy, emotional poignancy and a sense of reality and grounding that only comes from experienced and talented performers. Brilliant.
I'm So Close It's Not Even Funny by the Company; Directed by the Company. Presented by Why Not Theatre; Featuring Katrina Bugaj, Troels Hagen Findsen, Ravi Jain. Part of the 2008 SummerWorks Festival. There are no more performances so you've run out of time to see it but you can find more info here.

By M John Kennedy