Love Conquers All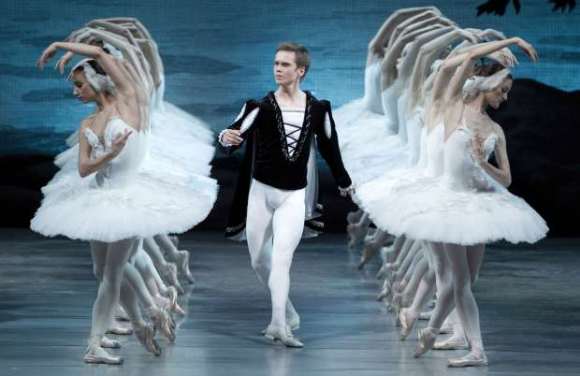 The Mikhailovsky Ballet's production of Swan Lake offers a treat for classical ballet affectionados.  The St. Petersburg based company brings this undeniably Russian 'love conquers all' story to Vancouver for a brief run at the Queen Elizabeth theatre.
Some things are just done better the old fashioned way, and hearing the orchestra tune up upon entering the theatre, I already knew it would be a good evening. Listening to Tchaikovsky's score, conducted by Valery Ovsyanikov, live as opposed to the canned version was rare a luxury in itself.
The set and costumes by designer Simon Virsaladze were so detailed and finely made that I felt transported into a 19th century fantasy land where young maidens have been turned into swans and are being held captive by an Evil Genius. The palace is lavish, the swan's lake is suitably gloomy and melancholy, and the ballroom is sumptuous. Occasional moving images projected on the scrim help to tell the story in key moments.  The dancers are highly skilled and choreographers Marius Petipa, Lev Ivanov, Alexander Gorky, and Asaf Messerer and revised by Mikhail Messerer, give the audience a fully traditional ballet experience. At times, however, the stage looked messy and disorganized and while beautiful, and technically strong, the first act felt dry and mechanical. Thankfully, things picked up in the second act where the iconic choreography and white feather tutus were a highlight.
Oksana Bondareva steals the show as Odette/ Odile. Her technical skill is breathtaking, and you can't take your eyes off her when she is on stage. Her characters are detailed, nuanced and full. As Odette, she is demure, coquette and melancholy and her bird like gestures are refined. Her Odile is strong and sassy and comes in like a bat out of hell. Things really pick with the Slavonic dances of the third act. The company came alive and was having a lot more fun. Other notable performances include Denis Tomachov's playful Jester.  His jumps were big and springy and he commands the stage with his presence.  Vladimir Tsal was perfectly ominous and powerful as the Evil Genius and Victor Lebedev was well cast as the dreamer Prince Siegried.
How relevant is this production in Vancouver circa now? That is a question I've been asking myself.  With Black Swan being one of last year's hits this production comes at a good time for curious audiences who are unfamiliar with the original work. Also, the archetypal good versus evil story and damsel in distress- hero dynamic run so deep in our culture that almost anyone can relate on some level. For ballet affectionatos, music lovers and philosophers alike, this production has a lot to offer.
By Alicia Novak