Herm & Gertie - Come to the Dark Forest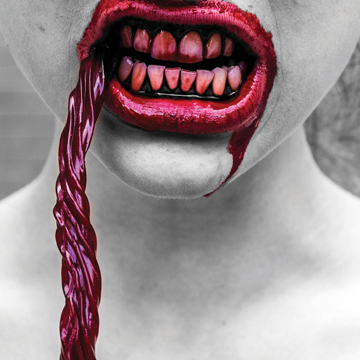 Brain Apple Theatre invites you to the dark forest that is the post-apocalyptic ruins of Vancouver, where a few survivors exist along with ghosts, monsters and one possibly radioactive duck in this adaptation of Hansel and Gretel.  
The forest is actually the Sculpture Garden located behind Performance Works and the area was used well by this production. This is a processional play, which means that the audience follows the action of the show to several locations moving as the action does.  By having the audience move with the play it allows the production to use the beauty of Granville Island as their set and inspiration, utilizing the water, trees, sculptures and open areas.  This production has tried to add another level to a processional play by having the audience wear blindfold for part of the show, even while walking from place to place – the positive aspect of this is that it creates an interesting moving soundscape – the negative aspect is that it is quite uncomfortable to be blindfolded, walking holding a rope over uneven ground – (they do tell you that you do not have to wear the blindfold and do provide ushers to ensure you do not run into a tree). I also have to mention that there is no seating, which means that you stand or sit on the damp grass so dress appropriately.
Although this is an adaptation of Hansel and Gretel it is not really appropriate for children due to content and language. Two children are abandoned by their parents (mainly due to their nasty step-mother) following an apocalyptic event in Vancouver.  The children need to work together to survive and deal with being alone. They eventually team up with a radioactive Blue Duck who is both the comic relief for the show and the reason that the children are in the situation they are in. The Duck convinces them not to eat her by taking them to a house that is made of candy and you can figure out where the show goes from there.
There are some strong performances, especially by Herm and the Blue Duck with her much needed humour. The play itself has ups and downs, and is not as scary or edgy as advertised. It felt more psychologically dark than spine-chilling and some scenes felt as if they went on longer than needed and seemed to lose focus.  That said, overall this was an interesting On-Site Specific piece of theatre that uses the Sculpture Garden to transport the audience on an adventure with Herm & Gertie. (Oh, and there is candy and when can candy be bad….Oh right...)   
By Jason Broadfoot