Eating Pasta Off The Floor - Looks for Truth & Finds It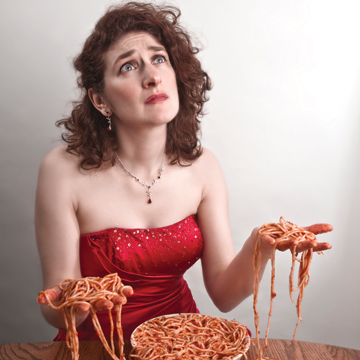 This piece is very funny, quirky, brutal, sensitive, in short it is about relationships specifically between a daughter and her mother. Maria Grazia is trying to make sense of her relationship with her mother, and other relationships along the way. Our mothers sometimes we think we know them completely, they brought us into the world and so we have a connection (like it or not) that is visceral we feel we know them completely and we are frequently shocked to find out that we may not know some of the pivotal moments in their lives. The reality is we can never know anyone completely, not even one's own mother. 
Maria Grazia plays the plethora of characters in her story, frequently caricatures to comic effect, switching from one to the other creating the world in which she grew up, the neighbourhood, her family and her foes. She brings us along for the ride, a ride we are willing to take because we are coaxed with humour, by her desire to understand, and to find the truth. We are with her on this journey, the willing observers, as it unfolds and she reveals a truth that is undeniably brutal and has affected not only her mother's life but in turn Maria's. It is the way of the world to pass on to the children the scars of the parent add our own wounds and we are the complex and delicate entities known as human beings. 
This piece is at times hard to watch, as is with life it is not always a pleasant place to sit but also as is with life we find that our capacity to cope and thrive, despite what life dishes out, is what makes us unique and makes life worth living and so is this play.
 
By Bev Siver